Fu Dog Hustle
While I got through Hourly Comics Day fairly well, I tanked at Daily Draw February. As I suspected, I didn't have the tenacity for a month long challenge, and it's only 11 days in at this point! Admittedly I got sick on the first day and got sent home from work the day after.
While that was a disappointment I at least have been looking after myself better and have been eating more fruit and ... well maybe not that many vegies, but definitely more fruit. Summer is a good time for that.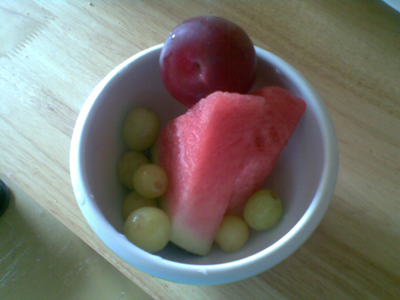 Here is a photo of my tasty snack.

Art News
Had a hard time sitting down to draw lately. While I have done a few doodles there's nothing I like enough to scan. Actually that's not true. I have been working on the bunny illustrations, slowly. I do like those but I don't want to post them until
ruzkin
has gotten them all.
In other art news I've bought some paint and hope to do something with those.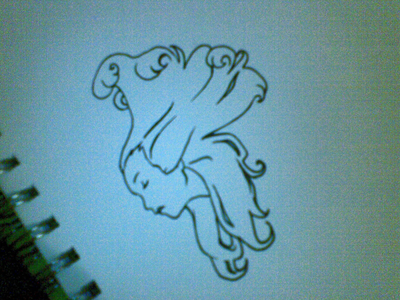 Here's a doodle I took a photo of.

On the Outside
electromancer
and I went out today and hung out with
Vamore
,
Kraden
,
carnival
,
patronise
and
Deezmo
(haven't seen her in ages).
We went to a place called Reverse Art Truck, which is a shed filled with off cuts and general rubbish for craft use.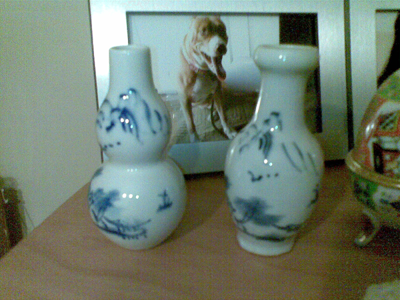 There I found a pair of super cute, tiny vases.
After that we went to a near by shopping centre for food, and then to
Alternate Worlds
for comics. Carni, Kraden and Vamore had to go, so the rest of us headed back into the mall to spend even more money. We sat down for some refreshments and brain stormed ideas for art jams.
In summary I had a great day and look forward to more like that.

On the Inside
I think this section is actually irrelevant now I'm not doing that much on the net. Nothing note worthy anyway. Spent a bit of time the other night looking at an online clothing catalogue and book marking things I'll want to treat myself to someday.
This is pretty cute.
What do you guys spend your time online doing?

Commissions
While I haven't put much more thought into this, we can start the prices off at $5AU for a chibi sketch.